Experienced trend forecasters predict that global sales of edible skincare (treatments you swallow, rather than apply on the skin) will reach £5 billion by 2020, more than double the £2.3billion that was spent in 2013. The new buzzword in this area is 'nutricosmetics', these pills & capsules are set to drastically change our skincare routines. In a lot of ways, this really isn't surprising.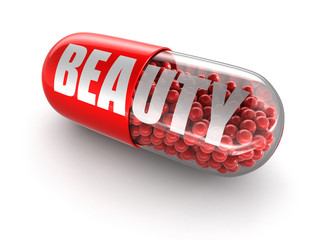 The connection between what we eat and how we look is obvious and it is well documented that pills can have a huge effect on the way our skin looks – often proving way more effective than a topically applied skin cream. You are what you eat - The beauty from within concept.
So how do these dedicated skincare supplements differ from your standard multi vitamins and minerals? The answer can be found in the unique formulas that contain other more special active ingredients. For instance, a supplement that specifically targets hair, skin and nails is likely to contain premium ingredients such as Collagen or Phytoceramides. There are antioxidants like Pycnogenol or much higher doses of vitamins A, C and E to ensure they really take effect. This new range of Nutricosmetic supplements have been formulated to get the optimum results to drastically improve the look of your skin and hair.
To sum up, the nutricosmetics industry is possibly the beginning of a beauty revolution as the simplicity of taking a pill or two that could transform your skin is going to appeal to millions of people worldwide.
It is important to remember that if you want to take multiple supplements of any type, you might want to check with a qualified nutritionist or doctor that you're not exceeding safety levels for each ingredient. Make sure you read the label too.